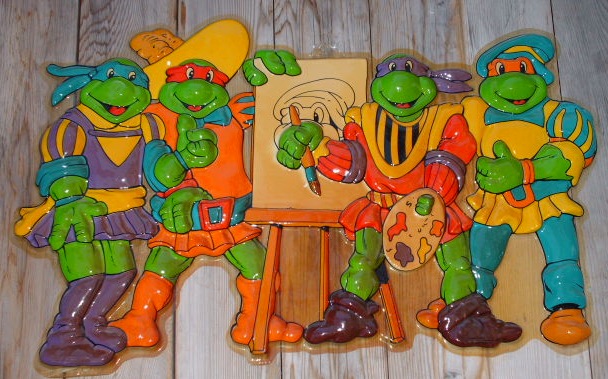 I should post more, but after I write at UnschoolingDiscussion and AlwaysLearning, all my writing energy is spent. This morning they're quiet, so I came here. Also I had this photo to deposit in public. I thought it would be easy to find with google image, but didn't find one. Maybe someone needing it in the future can find it now. It's here and also at
Late Night Learning
. I took it off the wall in Kirby's room, cleaned the dust off, and photographed it on top of the hot tub. He came home and noticed it missing and was worried. It's back on his turtle museum wall again.
Yesterday Keith and I played in the yard a lot. I would say "yardwork," but it was fun. Marty did the hard stuff—climbing up ladders to put plastic net so that moonflowers and morning glories can climb up in new places. Where the morning glories used to be, though, I'm putting in "real" vines—Virginia creeper (which was already here and is going north instead of south, and I'll try to redirect it) and honeysuckle. Our nextdoor neighbor wanted some of our Virginia creeper because it reminded him of his childhood, but his wife didn't want any. Keith and I put a few near his porch but I'm not sure if it lived. So I'm going to put it up the fence between our house and theirs so he can share it that way.
(For the benefit of anyone wanting to find that art, it's Ninja Turtles as Renaissance artists, and I hope google image can help them find it. Here's more help: TMNT plastic wallhanging Donatello Michelangelo Raphael Leonardo paintbrushes easel palette)
Kirby housesat at the dojo again earlier this month, while his sensei was out of town. His friends joke that it's part of his training to stay there alone and protect it from Ninjas. The first time he was going to do that, I was worried. It's a bad neighborhood, and he would be there all alone. Keith, who wasn't worried, reminded me it was basically a fortress full of weapons and Kirby knows how to use most of them. Not the least powerful is the phone, too.