Like Pinocchio becoming a real boy…
I got an iPhone today, and it's just like a little iPad that's a phone. That last phone I had never did work smoothly. Even Holly (who has a phone just like it) and Marty (who can usually figure out any gadget) couldn't help me.
Keith was feeling generous and encouraged me not to get the smallest iPhone. Destiny was sweet and talked to me all about what was what. Holly went with me to get it "ghost armored." Marty…he's been saying "You should get an iPhone" for quite a while. He said I would already know how to use it, because of the iPad. He was right!. Kirby has had iPhones for years, and he's not even an Apple computer guy, beyond that phone—so I took that as a good sign.
There was one other Mac given to me by Pam Hartley and her husband, when my first iMac was failing to have the power and brains to operate well with all the unschooling work I was doing on AOL—chats and forums, and lots of e-mail—I might find a photo of that and get help identifying it, at some point.
It took lots of thinking and encouragement, but I've owned Apple computers since the Mac IIsi I got in 1991, and had helped Ray Moseley (transcribing The Hammer, and working on a catalog) using Ray's Macintosh II in the 1980's.
Since then I've had an iMac G3 (the fat round ones), iMac G5 (elegant—LOVED THAT ONE), MacBook Pro (a string of those, for various reasons with interesting stories behind each change), and now a MacBook Air.
I have no preferred brands of shoes, chocolate, cars or much of anything, but these past 25+ years of Apple computers have been GREAT! So… I was slow to get an iPhone, but I have one now.
Note to future me: This shows a 13" MacBook Air, iPhone 5s and iPad Air

As I find portraits of the others, I hope I will bring them here, too. :-)
---
Holly and the G5: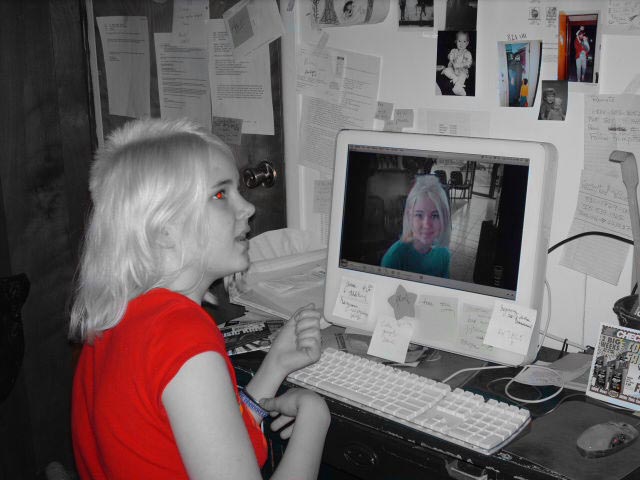 Kirby and the IIsi: