Photo links are gratuitous pictures so the post won't be all words. They are not illustrative of the topics at hand.
I've been thrown off a blog. Excommunicated and banished. It didn't hurt my feelings at all. There are interesting aspects, though. The parting shot was
You are no longer welcome here, Sandra Dodd, advocate of mutual-respect parenting. Your comments will no longer appear without first being moderated, and I will no longer read them when I see your name.
Interestingly, the blog owner kept using my name, and in the closing my FULL name. It was like advertising. And it's one of those "no publicity is bad publicity" moments, I think.
I had suggested that derisive criticism of parents giving kids freedom was fear-based. Maybe that scared her?
I was accused of not knowing what the blogger believed, but I read the sidebar. Christian, Well-Trained Mind, cynical, snarky (based on the names of some of the posts). That was enough for me to ask other unschoolers to be very polite if they were to go there. And I did that, on the AlwaysLearning list.
I thought if anyone here was in a CALM, collected, polite but analytical mood, it might be a topic to look at. I'm not asking for "support." I'm holding my own, and am not worried about the effect on unschoolers at all. I still thought some of you might find it interesting, or maybe be able to bridge the gap between her beliefs and mine. Interpreters, perhaps. . . . The blog author's mind won't be changed, but some of her readers' might. Go gently, if you go, please.

I also read the profile of the blogger (after I had posted twice, not before), so I knew some good stuff about her birthing and parenting practices, and that being a Texan is very important to her (and her birth practices

), which was interesting. I probably knew more about her than she knew about me at that point, although God knows there's plenty about me out there.
http://barefootmeandering.com/archives/2008/05/from-the-misguided-
parent-files/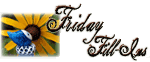 1. There is absolutely NO way you can get me to
lie
!
2.
The swamp cooler
reminds me that summer is almost here!
3. I cannot live without my
.... I can't think of a fill in, though there are many things I DO love, like flush toilets, running water, my house with its great roof, my family, running automobiles, telephones, books, my computer, the internet, my friends...

So I could live without them, but not as contentedly.
4.
Time travel
and
invisibility
are two things I'd like to try.
5. When life hands you lemons,
be grateful you're still in a position for life to hand you anything at all
.
6.
Music
is my favorite childhood memory.
My mom singing, me learning piano, playing my Mamaw's piano when I visited; singing with my cousin Nada under the workbench in the yard, learning to harmonize on You Are My Sunshine, when we were nine or so; singing in the children's AND adult choirs at church; Miss Lopez teaching us lots of songs at school; singing in Girl Scouts; staging a little home version of "Hansel and Gretel" with Nada and Irene from a school music book my dad found at the dump; learning to play clarinet when I was ten... Buying NEW Beatles albums for $5 at J.W. Owens department store (a couple of quanset huts on Indian land by the Rio Grande), then it moves to teenaged music memories, and adult...
7. And as for the weekend, tonight I'm looking forward to
Keith and the hot tub
, tomorrow my plans include
helping equip Keith and Marty for an upcoming SCA campout
and Sunday, I want to
maybe go see miniature horses
!