All these are spooky but cool in various combinations, I suppose. The first one's not spooky; mostly cool, except for me not knowing it and it's been there since November.
101 Ways to Increase Your Longevity and Quality of Life
Of the 101 cool things including eat slowly, eat garlic, have sex, learn to
breathe
and be
confident
, one is "Play Video Games," and they used my video games page as a link.
89. Video games. Playing video games isn't just for kids. Strengthen eye-hand coordination in addition to learning new ways of problem-solving while playing video games.
Their "Mental Health and Wellness" list is my favorite part. Videogames came under creativity, rather than mental health.
---
I also found my deschooling page listed in two very disparate places:
Prophetic Heretic
(more political and strident than I usually read, but Deschooling for Parents is linked way down the right side) and one called
Unschoolers Online
which seems to be a money-making site, though the links are okay.
What interests me (not in a great way) about both those sites is that the author/blogger isn't identified. I think people should put their names with their opinions. Still, if people find unschooling ideas through those places, good deal for them and their kids.
---
More spooky than cool—a black widow spider:
Keith came to try to pass through the hallway but I was bent down toward the spider and it wasn't so easy for him to get by. Sorry I jumped around, but y'know.... that spider could move fast.
After that part was done, I went to get the vacuum cleaner to clear up the webs and remains. I moved the three planters to vacuum and there was another dead black widow (perhaps a dead widower), AND another, bigger, live one. Too close. No good. They can live in the wall outside, eight feet from my bedroom, but not in the hallway between my bedroom and my office. Bad idea.
My bad idea to put bug-attracting plants in the house all winter, which then attract spiders. So I took those out and transplanted them into the yard, vaccumed twice, and rinsed out the planters, with that kinda creepy spider-might-be-on-me feeling surfacing once in a while.
Outside in the front yard, though, there was other bio-news. A lizard that was small and lived across from the front door last year is still there and bigger! Okay, it might not be him, but I think it is. I never saw more than one lizard there last year, and he would be in the same positions in the same places. I think he lives under that pile of bark, but he suns on one rock (by the trees). So today I got the lawn cart and brought two big rocks to create more sunning space, and a hidey hole for him too.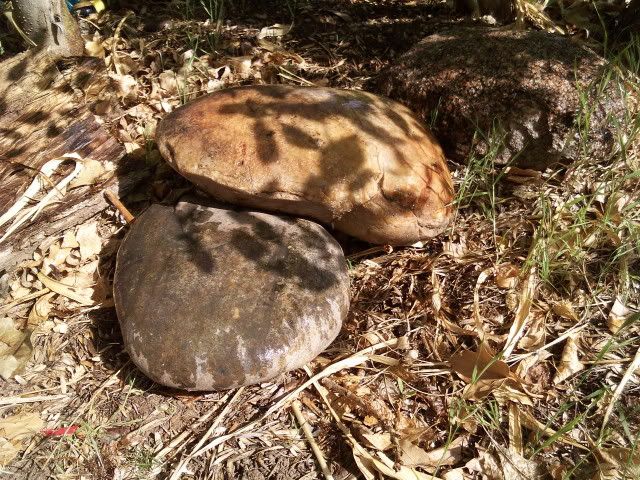 Now that I look at the photo, they look like loaves of bread, or turtle shells. They're a whole lot heavier than bread and turtles put together, though.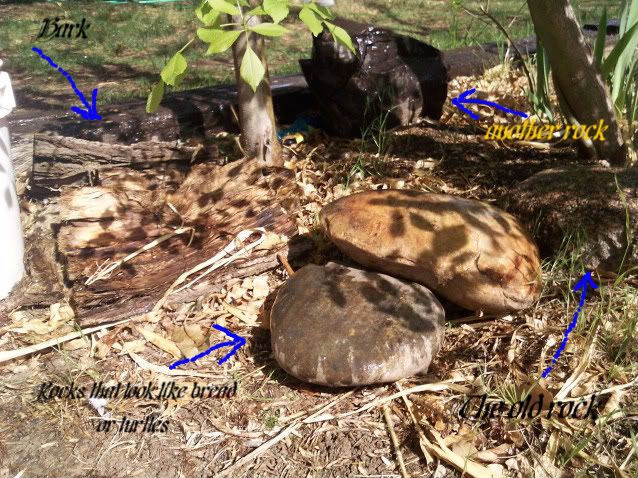 Now that I look at those rock photos, though, I'm thinking the top one might either be very heavy bread or the remains of a long-ago bag of cement that stayed outside way too long. I'll ask Keith's opinon. I'm sure the lizard will be thrilled either way to have a hiding place that's cool underneath and hot on the top.
(We looked at the rock Sunday morning. The other side looks better. It's a big granite river rock with damaged and eroded edges.)
I know we took some photos of it last year but I can't find them. I'll ask Holly when she gets home,
and I'll try to take a picture of this lizard this year, which may or may not be the same one.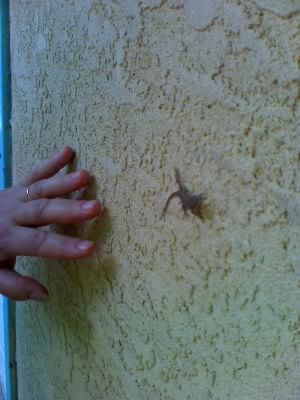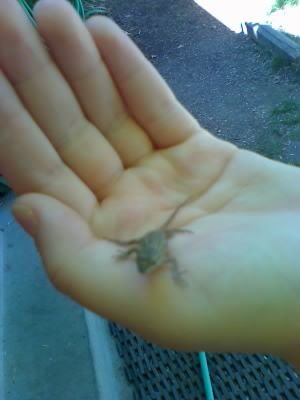 (they were in Holly's photobucket, not mine)