This little video is from July 26, when we were getting ready for Kirby's birthday party. The voices in the background are Kirby and Marty. Those near are Holly and me. I show for a bit.
About those eggs... People have asked me how I can get all my boiled eggs peeled so well. Reject "peeled" and think "shelled." First I crack both ends (I do it inside the rounded upper corner of the sink). Then I crack the sides lightly. I put them in the cool water in the pan and after they're all cracked, I roll or kinda knead lightly each one, turning it, and soon the shell just comes loose with the whole membrane still on the shell. It makes really pretty boiled eggs. We were doing deviled eggs that day, but sometimes I do pickled eggs with beets, onion, sugar and cloves (and vinegar, y'know...)
and garlic cloves—they turn pink too!
I'll put some photos from Kirby's party before long, but he's leaving in a few hours. Holly's going with him for three days. She took these photos of Kirby, Marty and Brett (who is their friend and also her boyfriend) playing Rock Band just a few minutes ago: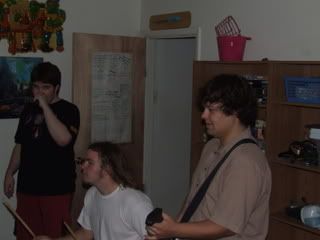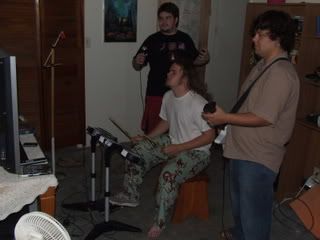 They're still playing, right up above me. I'm so glad to have Kirby home, and to have Kirby and Marty and Holly all in the same room at once. Kirby and I went out and about this morning for a while, and he told me he almost wants to stay, but he knows it's just that when he comes back home he gets the best of everyone, and he's a celebrity while he's here (this is his second visit back), and that it wouldn't last if he were back full time. He likes his job in Austin, but was just acknowledging that the draw of being here is strong. He won't be here long enough for anyone to forget to invite him somewhere or to be grumpy that he did or didn't do something or other.
I have loved having him here.