Some of you might have seen this ad, if you subscribe to Natural Life Magazine, or the online Life Learning Magazine. Holly did the art, and she thinks it's one of the best photoshop jobs she's done, she said. Of course the book cover itself was Holly's doing, but having the yellow of the cover turn into the background was cool, and I like this.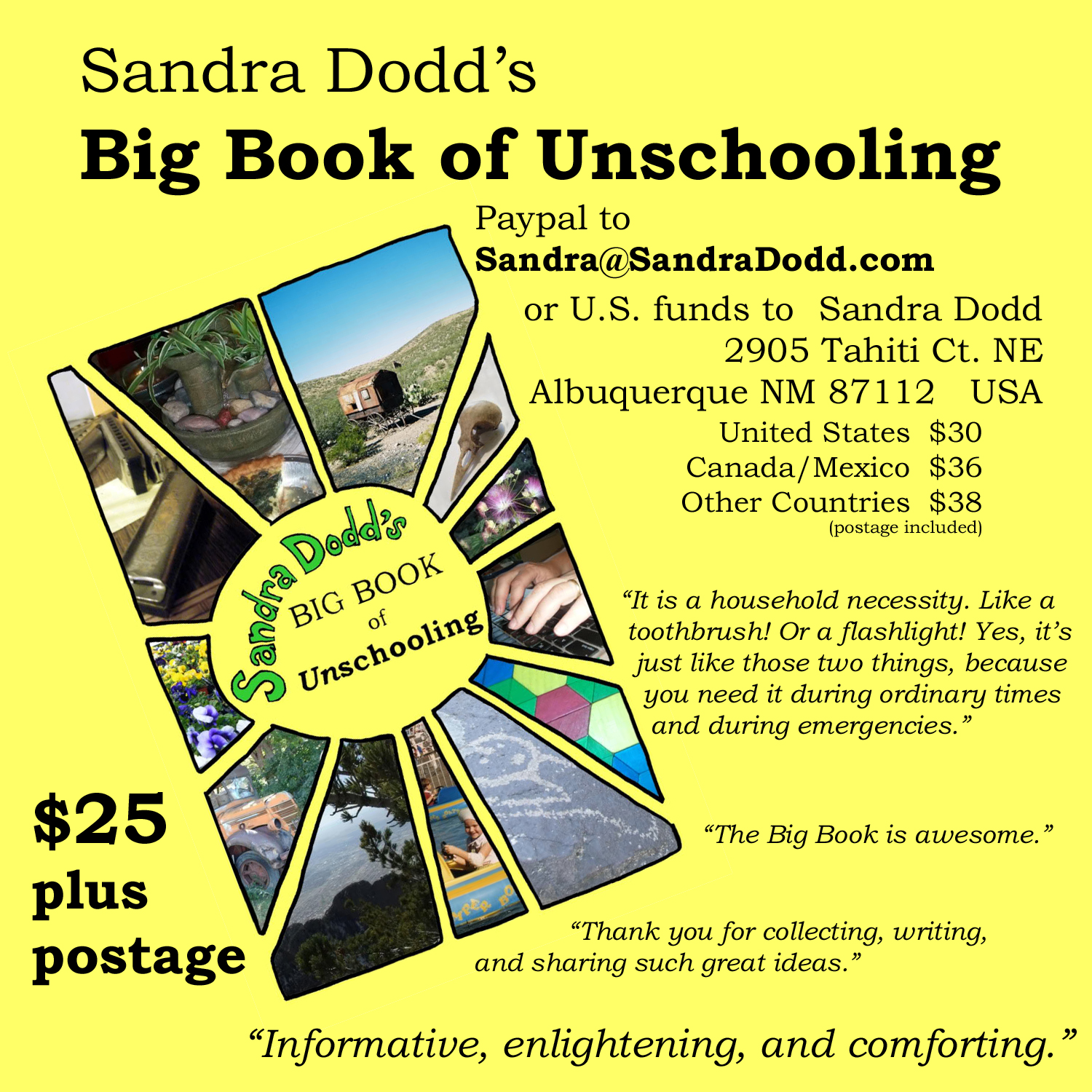 I had a new review, in a way, and got permission to put it here:
http://sandradodd.com/christian
I was interviewed from Australia, while I was in India, and that (with an introduction that made me blush, and a beautiful follow-up about kids) is here:
featherandnestkim.blogspot.com/2010/11/unschooling-surprise-sandra-dodd-is-in.html
Kim was so sweet that I wanted to say some things I had never even thought before, and give her a special interview. (Some of it might be familiar, but some is really new.)
It's a good time to order a book if you thought of giving one for Christmas. In addition to the really beautiful cover, it has some ideas and suggestions for contributing to peace on earth and suchlike.
If your gift-list friends already have this book, please consider
Moving a Puddle
:
The reason I don't advertise them on the same page is that it costs more to mail them together by priority mail than it does to mail them separately, because each fits in a flat-rate envelope, but the two together are too big. It seems odd, but it's true, and it's a better deal.
RECENT NEWS
is that Lulu.com is publishing in Australia and in Europe, so it might be worth checking the total price with shipping through
http://www.lulu.com/
, if you're outside of North America, and buying it there instead.
I'm not very good at promoting sales, so as a Christmas gift to my sweet husband Keith who never complains when I buy another shipment of books, I want to sell some now. We're going to Texas that week before Christmas, so I won't be able to do last-minute Christmas sales. [The 18th is my last book-mailing day until after Christmas.]
Some people say they read these in the bathroom. Maybe you could buy two copies and decoupage the bathroom walls!
I hope you're all having a peaceful, merry December, wherever you are, and thanks for looking at my daughter's artwork.