Isn't Marty the cutest thing? He's so cute.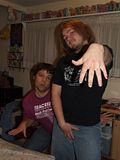 Holly went on a photography rampage recently, which is fun for me. And you'll get to see Marty's nail polish if you click this one. ("What's the story on the nail polish?" I asked, when he got up this morning, and he said "We were really bored.") I don't know why he's touching his crotch. I'm sure it was an accident and he's never done it before and will never do it again. That's Brett with him (not the Brett who's usually with him, but the other Brett). They're being cute in Holly's cute room.
And Holly took some very nice shots of our friend Ben/Dermod. And she artfully
messed up
augmented
a photo I took of her.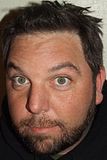 I'm glad we have a digital camera and I'm glad Holly likes to use it and finds willing
victims
subjects. Models. Targets.