I was at the movie "Atonement," sitting by myself near the front. Holly was further back with a couple of her friends. We were at "the old lady theater," a theater that's usually frequented by older people. Most of the young people go to the new multi-plexes. This one's near our house, though, and I'm often one of the youngest in the audience, at 54.
Two women sat behind me. They were in their 80's, maybe 90. One said, during the previews, "Either they need to adjust their speakers, or I need to adjust my hearing aid."
The theater was only about a third full (which is crowded for that theater). The women commented several times during the movie, and I did not mind One BIT, because they were alive in all the days of the story,and their comments were interesting and helpful. Also, I don't like to watch movies alone, and it was less like being alone, to have their additions. It was like having native guides to the 30's and 40's. I wish they had talked more. There was no one else near enough to us to have been disturbed.
At the end of the movie, the main character/narrator/POV-person is saying she's been diagnosed with something-something, which is like a series of ongoing strokes and she's losing words. When the credits started rolling, the ladies behind me had this perfect exchange:
"What was it?"
"They used to call it 'aphasia.'"
"Oh, right. I had forgotten that word."
Perfect!
Then a few days passed and we got two cords of firewood dumped in the driveway by a big dumptruck. Perhaps it's some cave-woman instinct, but I feel safe and rich when I have lots of wood.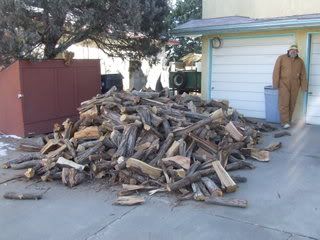 Holly and I were in the window upstairs watching the wood fall. I love the sound of that much wood and I like dumptrucks. I told her that with taxes and delivery, that was $450 worth of wood. She said "You're wasting your money."
I said "We use the hot tub a lot, and I like to use the fireplace. What do you think we should do with $450?
She thought. "Give it to me," she said.
I thought. "What would you do with $450?"
She thought. "Save it."
What a weird kid.

She and Marty have both inherited Keith's good money sense and ability to save. Good for them!
And they can take care of the more spending-happy Kirby and me. (Kirby's pretty good with money too, though. They can all take care of me, I hope.)
Oh! Then in five pickup-trips around the block to the back gate, Keith and Marty moved the wood. I was stacking it into small enough to use, easy to split and hard to split, whie they were up front getting more. A little tumbleweed blew by me. I thought "How picturesque. Some of my online friends might like to be stacking wood in New Mexico when a tumbleweed blew by," and I wished a few WERE here to help me. Then I thought "What the hell's a tumbleweed doing in my yard!?" Keith had left the gate open.

I shoved it in the hot-tub stove.
Eventually Marty and Keith were back there helping, and it was all stacked. I lasted through the whole stacking job, but not without whining and getting a couple of splinters. They wore gloves, but I don't like gloves. Holly didn't feel good, or she would've helped too.
I was tired but very happy.