Today is the last day I can write on the first Friday of 2009. So momentous...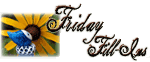 1. The world is my busy, happy home.
2. "Have fun!" was the last thing I said.
3. I wonder why cynicism appeals to some people.
4. Infinity clears its throat at the end of all things. (No one's cosmology has an end of all things, does it? It's just the beginning of the next thing.)
5. There's something to be said for breathing.
6. Contented and hopeful is where I want to be.
7. And as for the weekend,
tonight
this afternoon
I'm looking forward to going with Holly to meet friends at St. James tearoom , organized by Kim (thanks! and the menu is below), tomorrow my plans include cleaning the hot tub, and putting 100 things away in the library because we have company coming on Monday! and Sunday, I want to discover something that will change the world for the better!
P.S.
Photos of the tea

—a peekaboo thing Holly made of me. The best image from that set is here:
goodvibrationsconference.com/presenters
and others here
Today is the last day of the Christmas-tea menu, so I've brought it here as their website will change to the January menu soon.
Menu for December:
Victoria & Albert's Christmas Cheer
(subject to change without notice)

Savories
Breast of Duck, Port, Cherry & Red Currant Puff Pastry
Individual Beef Wellington
Duchess Potato
Stilton and Cranberries on Pear Barquette

Traditional Tea Sandwich:
Cucumber Pineapple Cream Star with Cinnamon Butter


Scones & Bread

Traditional Cream Scone
with Lemon Curd and Clotted Cream
Ginger, Fig, Cranberry & Walnut Fruitcake*
with Orange Hard Sauce


Sweets

Almond and Cinnamon Meringue Star*
Royal Mincemeat Tart
Bittersweet Chocolate, White Chocolate and Peppermint Truffle

*contains nuts


Due to the theme of this month's menu,
many of the items are cooked with or include alcohol.

St. James Tearoom