One of many benefits of a big house is that Holly and Brett can have a romantic dinner of their own making alone at home while I'm in the back (an attached apartment, but separate roof, separate building, odd kind of hallway-connector). Keith and Marty are in Arizona until Monday. I have this cool new laptop which makes me more portable, and I have lots of e-mail to catch up on and webpages to tweak.
Here are the flowers Holly's Brett had delivered while he was at work today: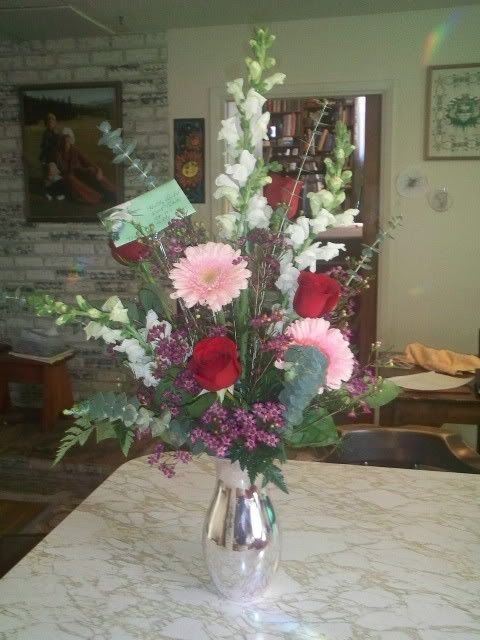 And he was going to make her asparagus with sauce, and they were going to make spaghetti. Holly bought heart-shaped candle holders and red candles. I am just not there at all. I'm back here. See?
Kirby has called me twice today, just to talk. What a sweetie. I got to talk to Ramona for a long time, too, and spend a lot of the day with Holly. I brought food back here and was preparing as though I'd truly be limited to just what I'd brought in, but realized while I was talking to Kirby that although I'm planning not to go up to the main part of the house, there's a Popeye's chicken right out the back gate, and a grocery store up the alley. There's a Twister's right across Juan Tabo and... a fridge in the next room. So although I was preparing as though I were going camping alone, it was oddly inappropriate. Still... I've folded laundry and played games and listened to music and read and written.
I really do like my life!