What are these little birds? They were at a rest stop somewhere before Fredericksburg; I don't know exactly where we were. You can click for closeups.
| | |
| --- | --- |
| Here is Keith, our heroic driver who got us here safely in thirteen hours. | |
Other photos of the day (not so many) are
http://s26.photobucket.com/albums/c111/SandraDodd/Kirby/texasApril08/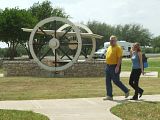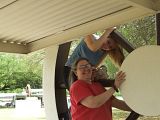 Kirby called a bit ago, on his lunch break. He works until 11:00 tonight, and we'll see him tomorrow morning 11:00ish. We'll keep adding photos from time to time.