Keith puts his hair up in a little bun, but here's what it looked like a couple of mornings ago when he was getting ready for work. He was sitting to comb it out because his back's been hurting. I was up early because he hadn't slept well, and I got up to check on him and do things, but couldn't go back to sleep.
Any of these photos can be seen larger with a click.
One day Holly had a rainbow on her shoulder. It came from a crystal that hangs in the kitchen window. Keith and I got it as a wedding gift, so we've had it nearly 25 years. She was sitting across the kitchen table from me and I looked up and saw her rainbowness, and the shadow of her Valentine's Day flowers on the rainbow.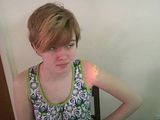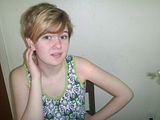 Holly and Brett went to dinner at a French restaurant for the one year anniversary of their being a couple. One photo is dark, but I liked their expressions.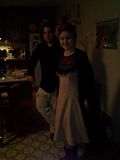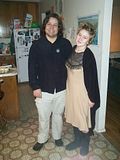 Then I was in the bathroom and thought it was an interesting bathroom day—the stuff on the counter and the wall.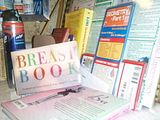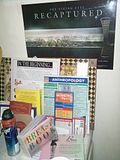 Kirby and three friends signed a lease on a house and they move in March.
My biggest excitement happened today. I found out I'll be a speaker at the London Unschooling Conference on July 25. That's the day after Learn Nothing Day. Cool.
"Cool" is an understatement. I'm giddy.
Also, about the Good Vibrations conference in San Diego—maybe Keith will drive out with one or two of the other kids. Kirby and I will fly, if he can go.
AND it's nearly time for the HENA conference, Kirby has reservations, Brett will drive me and Holly out there, and I'm excited!