Last night when Marty was stuck in the snow, the moon was barely discernable through the thick clouds. When we got in the hot tub at 10:00, the sky was entirely clear and we could see stars. This morning it's clear and sunny and 19 degrees. Still, sun will win (or start to make a dent).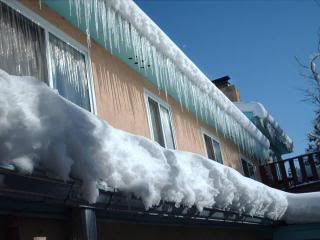 Keith has gone to clean the driveway of a friend who's been at a family reunion and is in an electric wheelchair. I hope others show up there too. They'll need to clean a 25 foot driveway and the sidewalk and the porch, but it's doable.
Marty's home, and it didn't hurt that Keith got my van out, so Marty could come in on the same tracks and get the clear spot in the driveway.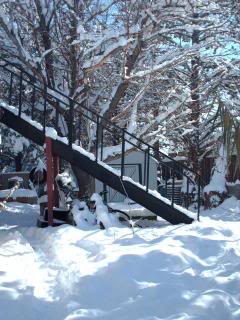 The steps were cleaned off halfway through the storm, for fire escape purposes. Having company and a roaring fire and snow keeping doors from opening seemed a bad combination to me, so Keith cleared our exits. He's a good guy. Below is a photograph of the firewood in the mulberry tree. Four sticks show. There may be five or six, but I couldn't spot them. There's still more snow higher up, where it didn't fall down when I tried knocking it down.