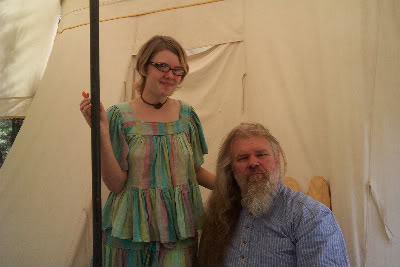 Holly and I went to Steve and Beau's wedding yesterday, a nearly two-hour drive into what seemed the middle of nowhere, but I do know vaguely where we were, in the southern Manzano Mountains. We were calling it a hippie wedding, but the groom referred to it as "a Pagan, Native-American, Buddhist, Jewish ceremony conducted by a heretic Catholic priest." Keith had been out there all of Saturday a week ago, half of Friday, and is still up there to break down all the tents and bring back the tables and chairs and tents that were ours. Keith was brushing his hair to tie it back, and Holly and I had just arrived. Here's the place where the ceremony was.

Trying to get that panoramic shot, I accidentally made a little video, and would've thrown it away but you can see the ribbons fluttering, and hear some wind and birds. The ribbons were tied on those poles with blessings, at the bridal shower. Some have words, and bells.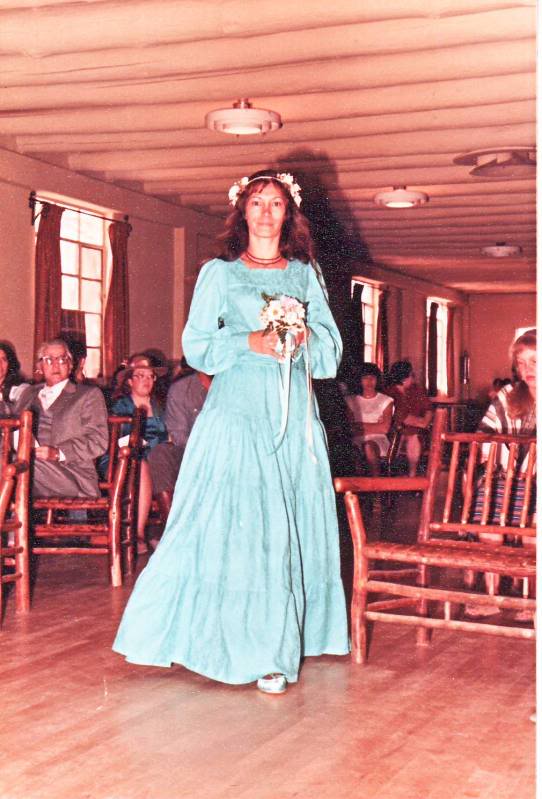 (clickable link)
The bride was my bride's maid when I married Keith 25 years ago. Beau Tappan. We've sung together for many years, and she and Keith still sing together regularly, with a group. I'm their music researcher and librarian, but I'm not singing this season.
Steve and Beau have lived together for 35 years already. Holly said an interesting thing. It was jolting at first, but when I tried to see it from her point of view, I could. She said she thought it was nice, the reason they were getting married. She said most people get married for life, to make a life together, and Steve and Beau were getting married about death.
At first it sounds awful, but I see her point. They don't need to hope and plan for life together. They've already had that, and are continuing to do so. They want to have the benefits of marriage in the case of illness and those other late-life things.
Beau would've been happy to have had a justice-of-the-peace wedding, in a judge's office. Steve wanted a party, and I'm glad he did. I saw lots of old friends and got to see their cabin on ten acres in the aforementioned middle of nowhere. The food was great! It wasn't an alcohol party; no toasts while I was there. Probably there were later, but Holly and I came home after we ate, just after the cake cutting, because Holly was watering the yard and garden of the newlyweds while they stayed out to party another day.
I was afraid to do too many videos and run down my battery. Here's one from the outside of the party tents, near the kitchen corner. The yellow tent was for smokers. You can hear Holly's voice. She's inside the tent with Keith and some other people, but the shade keeps them from showing much. She asked me if that tent would really keep the smoke in, but the purpose of the tent was to prevent fire. The ground was covered in dry pine needles and there was a fire in the area last year. So IF a cigarette starts a fire, it will be right there, near water, near people. Easy.
Holly had a zoom and so her photos will be better than mine, and she's a better photographer, but here are some images I happened to have, in the meantime.
This is a 90 degree view made flat. There were tents all the way around a central square, for the reception.

---
In 2009 when this post was new, I didn't have the ability to share a folder, but now in 2022, I do. Here are Holly's photos of the day (click this one to open the gallery):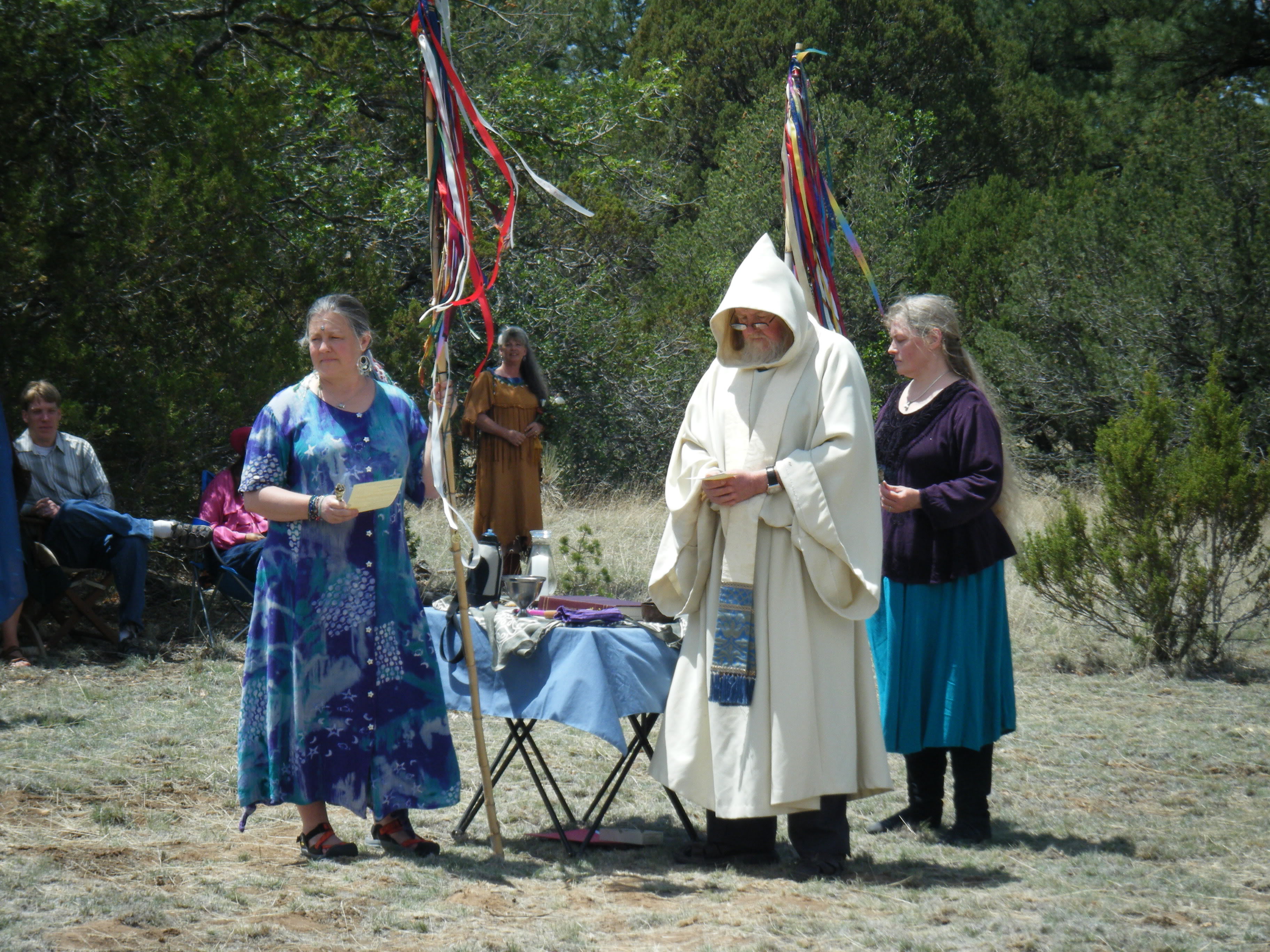 And here you can see mine. The first few are from the bridal shower at Judith's house. Sorry for a few duplicates.