My daughter Holly called and said she had a new favorite quote:
"Calm yourself with the awareness of what's important."
It's on page 205 of the Big Book of Unschooling. When she called I was already gathering and scanning things for this post, so her recommendation fits right in. I've been moving things from one room to another, but I don't just move things, I go through piles and boxes. I found three things that went together really well today: two quotes from an unschooling discussion, my birth announcement, and what I wrote when I went with a friend to a workshop on "Ethical Wills & Legacy Letters." They're all about being, knowing and awareness. The quotes I found are by Jenny Cyphers and Lissa (Melissa Wiley), from March 2008 on the Always Learning list. I printed this out. Jenny:
I've had a lot of huge life changing things happen over the last couple of months, and somehow things seem different and I seem to suddenly "get" it, even though I've "got" it before. A new enlightening of things that I've grown to understand and re-understand in new and different ways.
Lissa:
I know exactly what you mean. There's getting (intellectual understanding) and GETTING (putting ideas into practice).
For some reason I've ended up with the birth announcement my mom sent to her best friend when I was born. It was a hallmark card, three and a half inches square. As greeting cards were in those days, it was printed all on one side of the paper, folded in fourths, and then die-cut into the cradle shape. When I scanned the inside I put colored paper over it so you could see the shape better.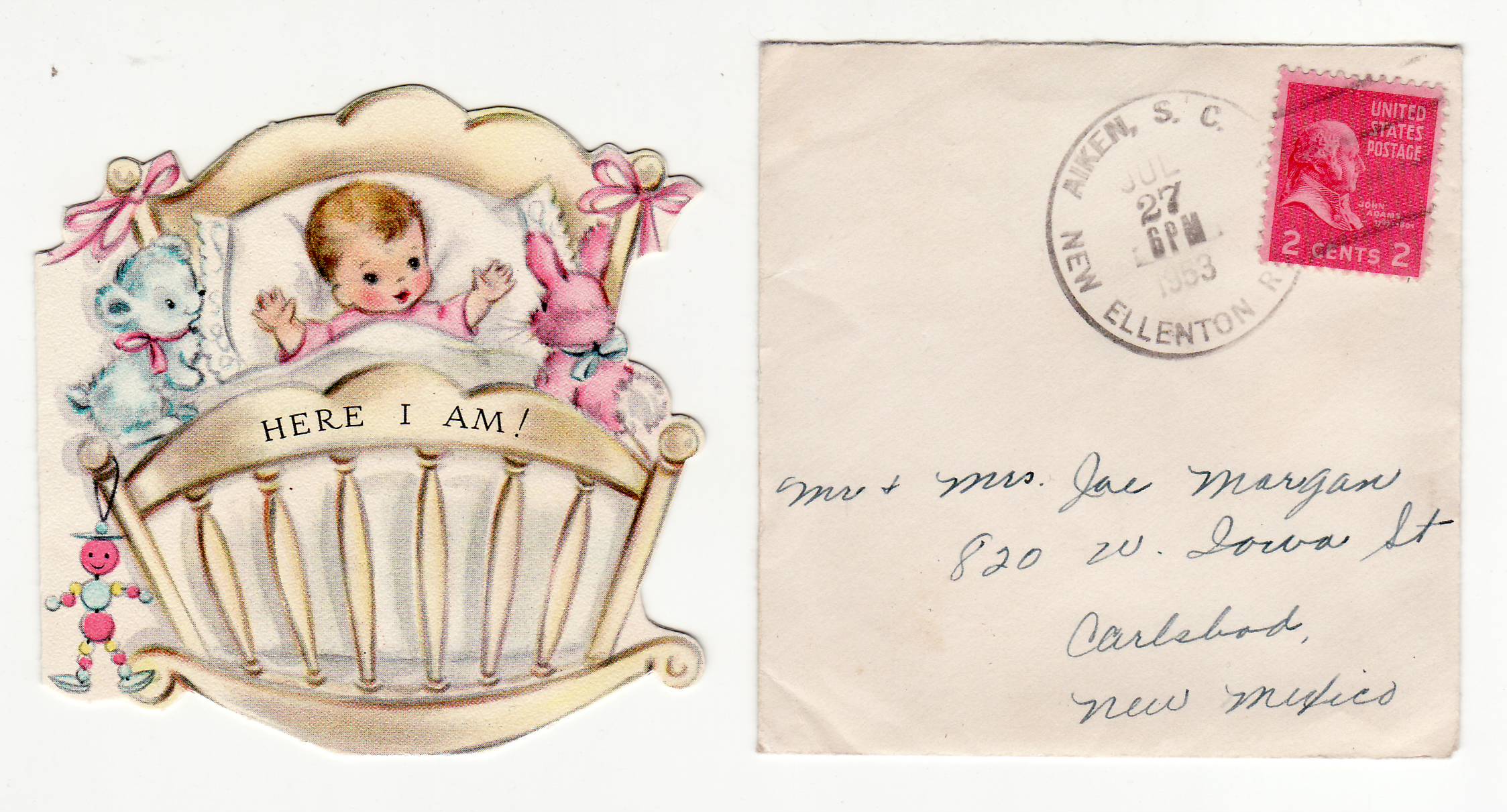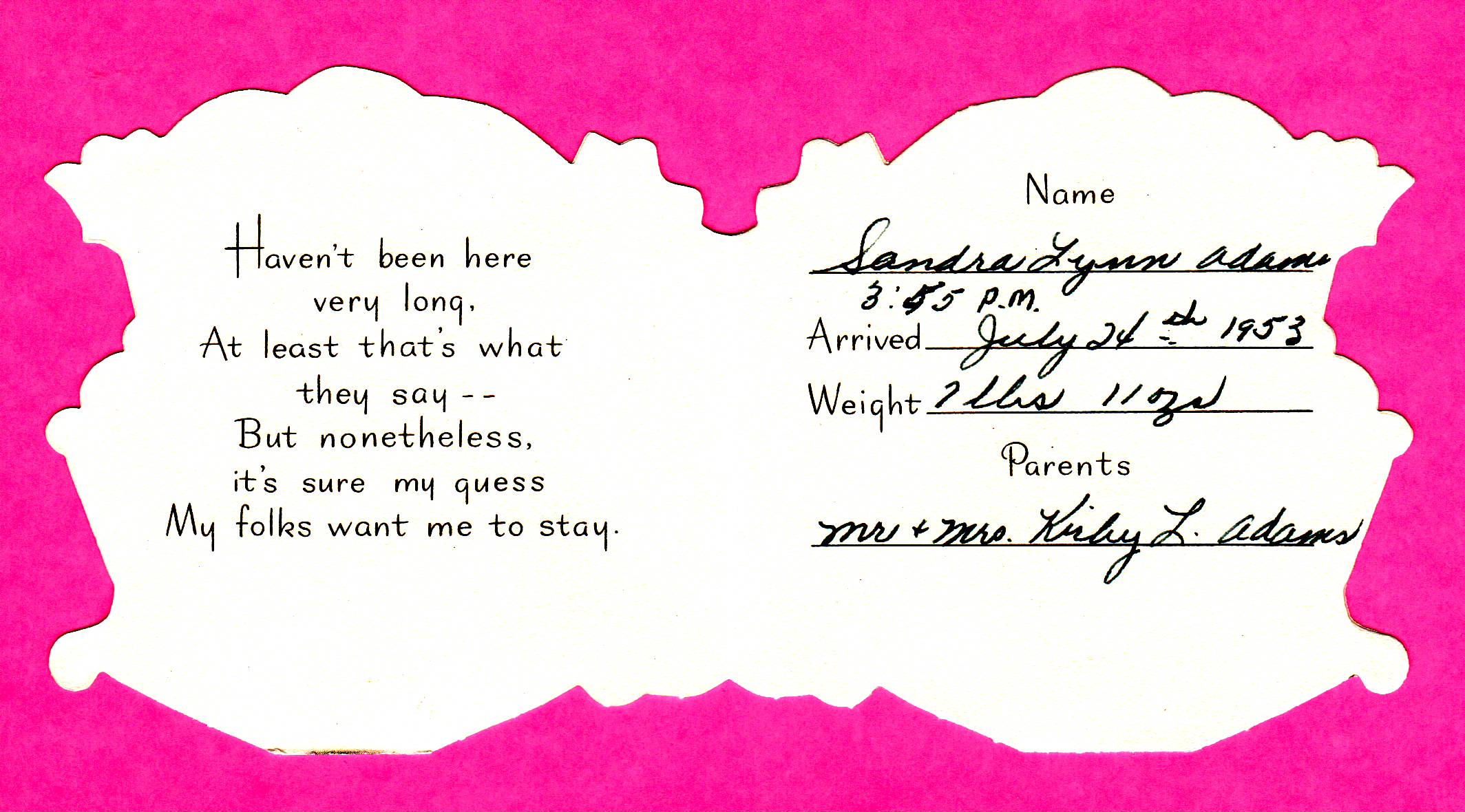 I was at a workshop, not as old as some of the people there, and we were to compose something for our children to read someday. I wrote this, read it aloud, and nobody else wanted to read theirs then. I didn't mean to do that to them. Writing is just something that comes easily to me, and thinking about my kids in this way is something I've done for a long time, too.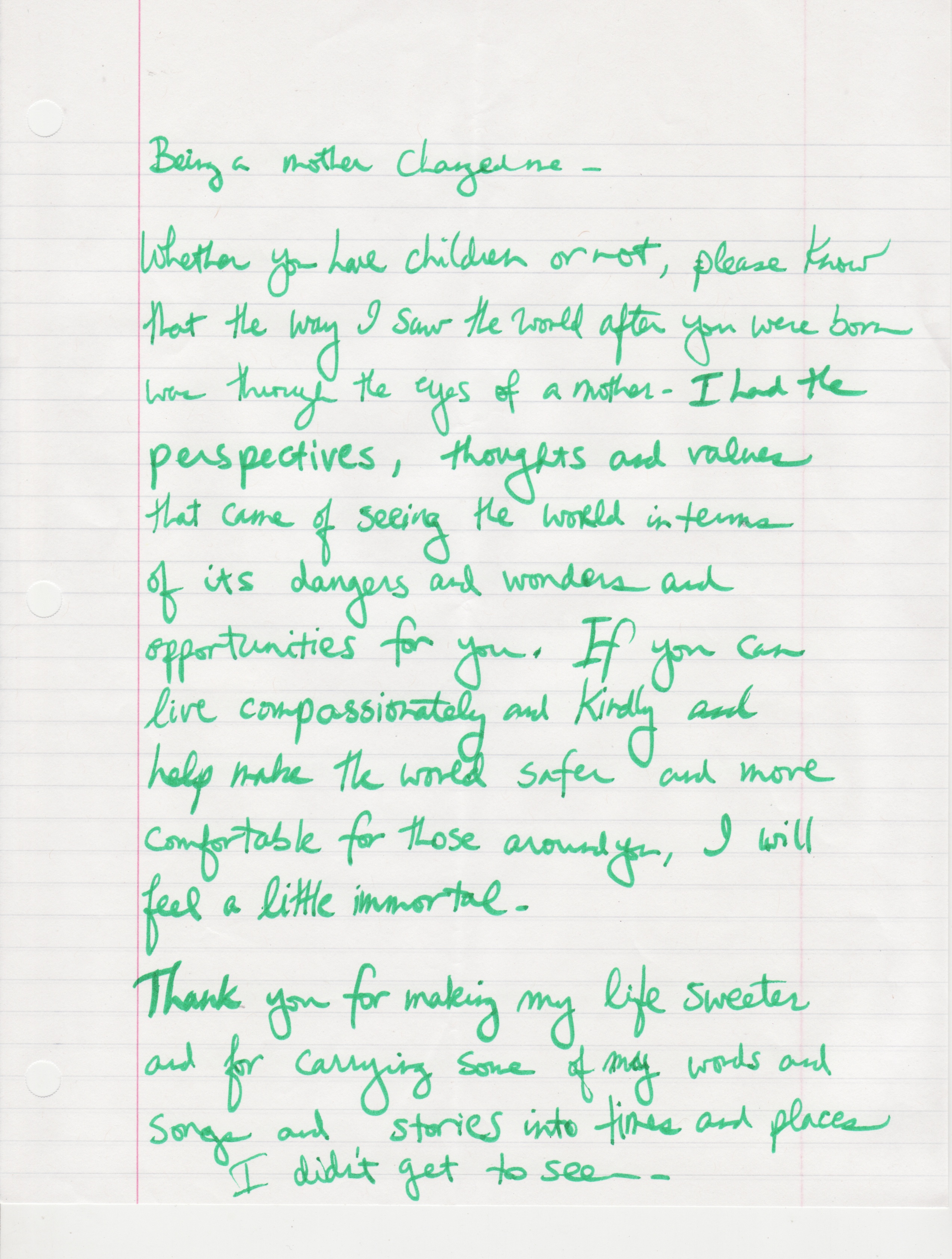 It was only written well enough for me to read. In case you can't decipher my handwriting, I can transcribe to machine-font:
Being a mother changed me. Whether you have children or not, please know that the way I saw the world after you were born was through the eyes of a mother. I had the perspectives, thoughts and values that came of seeing the world in terms of its dangers and wonders and opportunities for you. If you can live compassionately and kindly and help make the world safer and more comfortable for those around you, I will feel a little immortal. Thank you for making my life sweeter and for carrying some of my words and songs and stories into times and places I didn't get to see.