This year's first batch is done, and I thought about how I'd like to describe it to people who aren't from New Mexico.
The word is pronounced beece-co-CHEE-toas(t) (I can't think how else to show "-tos" to have an s and not a z sound at the end, but the first syllable rhymes with "peace" and the last sounds like "toast" without the "t").
Yeah, that's all true, but here's something easier: Say BiscoCheetos but say it like the Frito Bandito. There y'go.
Bizcochitos are the state cookie of New Mexico (since 1989).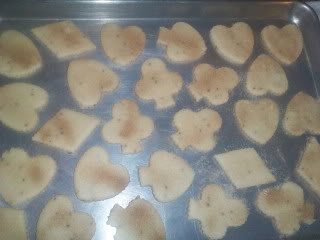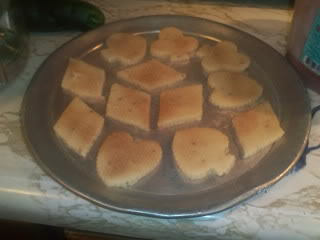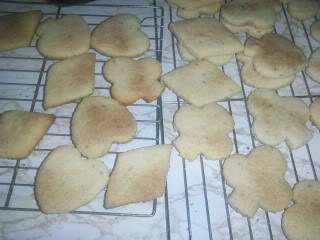 I've had this recipe since the late 1970's, and I'm going to describe the way I've come to make them. There's a printable recipe with more details at
SandraDodd.com/bizcochitos
. 1½ cups sugar 1 pound (2 cups) lard 6 cups sifted flour 1 teaspoon baking powder 1 teaspoon salt 1 teaspoons anise seed 2 eggs beaten ¼ cup brandy Cinnamon-sugar Measure the brandy out into a small container and add the anise seeds. Cream together lard and sugar until smooth. Add beaten egg, brandy and anise seed. In a separate large bowl, mix the baking powder and salt into the flour. Combine. If it's too stiff to hold together, add a little more brandy. If it's too sticky, add a little more flour. Roll about ¼" thick and cut with cookie cutters. Sprinkle with cinnamon sugar. Bake on ungreased cookie sheets at 350° F for ten to fifteen minutes (until the bottom is slightly browned).